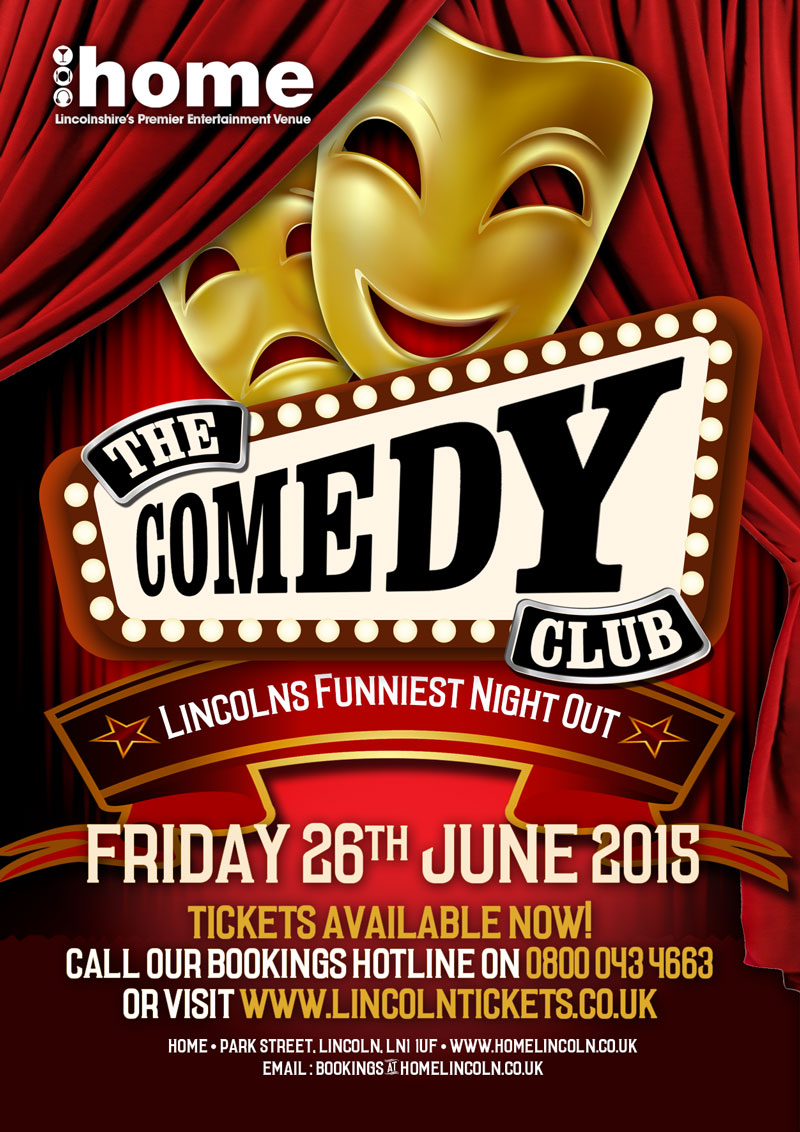 Lincoln's Comedy Club (August 2015)
Date/Time
Date(s) - 28/08/2015
7:30 pm - 10:30 pm
Location
Home Lincoln
The home for Comedy in Lincolnshire's premier entertainment venue.
For an Amazing night of laugh out loud comedy in Lincolnshire's premier entertainment venue it has to be our fantastic Comedy Club. Each month you will experience 3 top comedians…Big names on the circuit and certainly stars of the future. Its a fully seated event with full waited service…You can even order delicious basket food in the interval.
This months Lineup is a proper bumper one!
Host Comedian – Sally Anne Hayward
Absolutely Fabulous (BBC), Why the Long Faces (Ch4)
Sally-Anne Hayward combines the things you shouldn't like about your best friend's mum with the sensibilities of Jack the Ripper. She grew up to reject dizzy incompetence and feminine wiles for a disarming mix of ingratiating charm and unsettling pugnacity that gets more laughs than a hyena's dawn rally. Sally-Anne's confident persona and quick wit will have you in stitches.
Opening Comedian – Paul F Taylor
Winner of the New Act of the Year Award 2013
The award winning Paul F Taylor is a one of the UK's most exciting and distinctive stand-up performers. His unique brand of humour fuses quirky offbeat one liners with surreal observational flights of fancy to fantastical effect. Nominated as NATY New Act Of The Year for 2013 and GQ Magazine's comedian of the week, Paul's persona of a lost bewildered fool sits perfectly alongside his gleefully madcap ideas.
Headline Comedian – Colin Cole
"He mesmerized the audience; they only took their eyes off him to laugh" The Melbourne Age
Colin is literally one of the biggest names in comedy in Australia – not only is he 6′ 7″, he is also known for his hugely dynamic performance. His delivery is fast and furious, and his material ranges from the topical to the observational. He has toured extensively in the US, Canada and Hawaii, and now he's also taking the UK by storm. He's been described by The New York Times as "One of the most exciting performers to come out of Australia since Skippy!"
Basket Food is available for only £4.95 and can be ordered which are served in the intermission.
Call 0800 043 4663 for more information.
Its a great night out that wont break the bank…Get your tickets now!